Running the Silver Strand Half Marathon has become a yearly tradition for me. When I returned home to California in 2008, I've made it a point to run this race every November. But after this last event, in which I missed my mark, a sub 2 hour, and having to weave in and out of a crowd of people for at least 5 miles into the race, I decided that I wouldn't run this race ever again. The race organizers decided to add a 10-miler which made the race that much larger, and only one side of Orange Ave. up through the 75 is open for the runners. While this allows traffic to continue in both directions on the Strand, it makes for a crowded race and less enjoyment, at least on my part.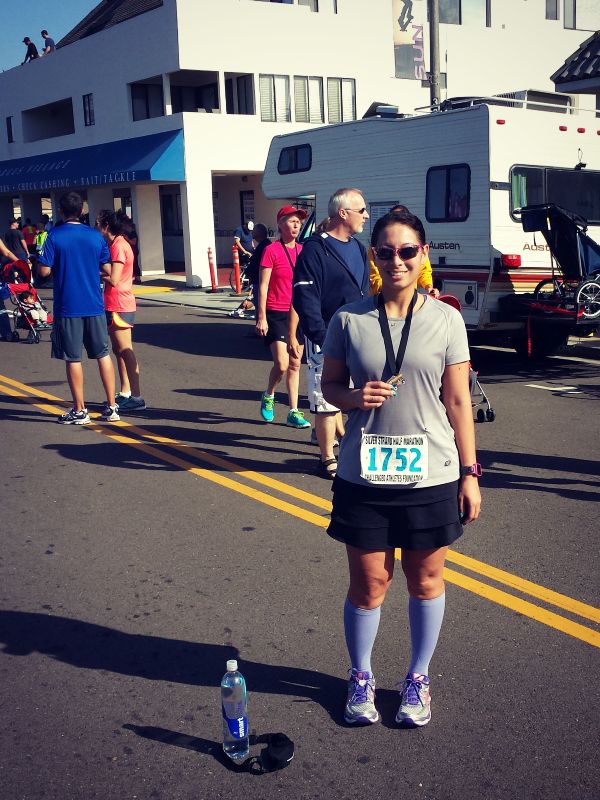 I struggled to finish strong in 2:01:22.8. My legs felt like heavy weights at miles 11-13, and I miscalculated how close I really was to getting a sub 2. Forgetting that I started in the very back of the pack and that the 2 hour pacers started 2 minutes before I actually crossed the start line, I may have been able to push harder, especially since I had passed them at mile 10. Needless to say, my pacing sucks; I might have went too hard too fast; my soreness before the race may not have helped my performance; or I just need to lose 5 more pounds. Since I will find it difficult to lose more weight, given my increased appetite with increased mileage, the only thing I can work on right now is pacing. Did I mention I hate pacing? All I care about is finishing faster than before or beating an old time.
Though I'm excited to continue training for as long as I can. I have quite a few races in my future, and now I feel like I have to squeeze in more just to feel like I am getting as much out of myself and life in general. I could be leaving sooner like I originally was anticipating. It's a bittersweet life that we live, sailing away from everything we know and love towards that which is much larger than you, me, and a hundred of us combined.