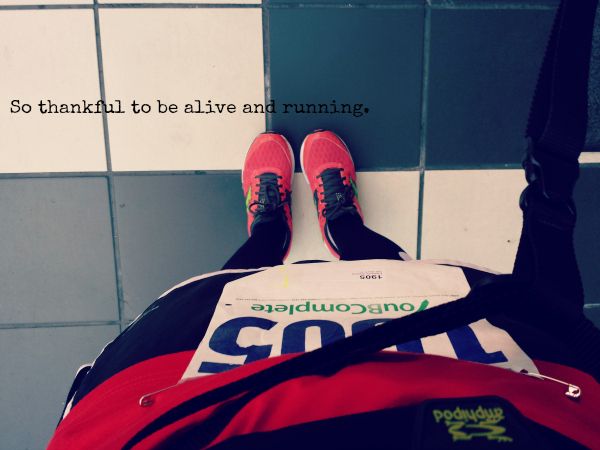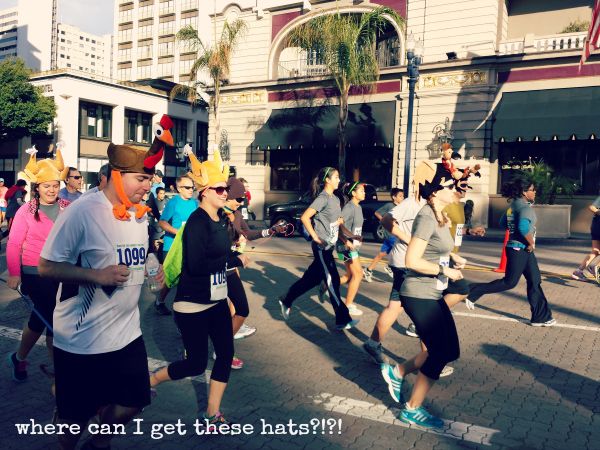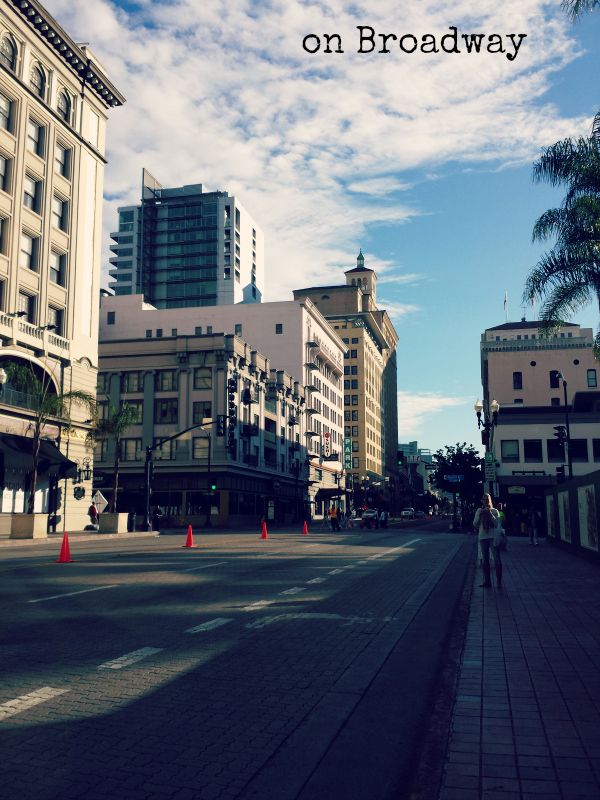 Happy Thanksgiving good people! I've inadvertently developed my own solo yearly Thanksgiving tradition and that is running the 10k Run for the Hungry sponsored by San Diego Food Bank in downtown San Diego. I run it by myself, except this year, Stella ran it with me and she did amazing. She was pulling me past my comfortable easy pace, and was apparently entertaining a lot of other runners who were commenting on the spectacle of us running together. As we passed two guys, they said: "That dog is beating us. We can't let a dog beat us!" Ha ha! I love it when people come together to do something good not only for their health, but for the good of others. I can only feel this way, feel the energy and the sense of community, when I run in a race like this.
Thanksgiving was once a time for me and my family to get together around a long-prepared home-cooked meal. My dad would begin roasting the obnoxiously gi-normous turkey at the wee crack of dawn, and my sister and I would loiter around the kitchen sneaking peeks and bites from the variety of dishes both my mom and aunt would prepare. Filipino-American Thanksgivings are a combination of Filipino food and traditional American Thanksgiving dinners, so our get-togethers were never modest when it came to food. Anybody we would invite over would always have plenty to eat. Holiday gatherings for us were very much marathon eating events. We ate and ate and ate and talked and laughed and ate until bed time. Then we ate some more the next morning.
Now we get together when we can if I'm around, and by "we", I mean me and Scott, and then my sister, her husband, my mom and dad, and my aunt. This year, neither Scott or I are deployed, however Scott has 24 hour duty. I will be spending a few hours enjoying a turkey lunch feast with him on the ship and then head over to a new girlfriends' house for dinner with her and her friends. That's what I love about the Navy. I'm always meeting new people, a new person to add to my family, and lifelong memories of those I have served alongside with.