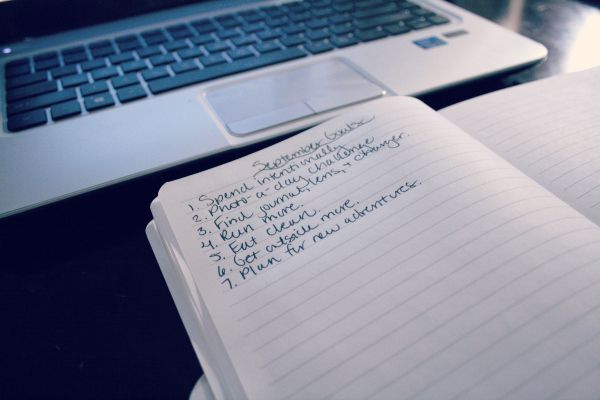 My priorities have since shifted, and so, then, my goals have had to readjust too. My rating change was approved, and now I have less time here on shore duty to complete my degree. I definitely won't be able to begin my Masters Degree program. I'm hoping that we'll get to stay in San Diego, but I can't control what orders will be available when it's our turn to negotiate orders. Until then, I'm allowing myself to go with the flow and redefine my goals and plans where needed. Here are September's goals:
1. Spend with intention. By "spending intentionally", unnecessary shopping shouldn't happen. I'll have a list or only make a list, if and when I actually need something. So this means, that sporadic trips to the mall with my girlfriends, can't happen. (Actually, this hasn't happened for a while now, but just saying.) Of course, I'd rather do things that strengthen connections, like having a conversation while sharing a meal or spending time together at the beach. Not only will these things create memories, but they don't cost much to do.
2. Photo-a-day-challenge. I love photo challenges. While they are tough for me to keep up with every...single...time I dive into one, I find that I enjoy getting lost in the process. It also forces me to document my life and record those memories that I regret not recording every time I forget to take photos.
3. Tearing apart my home to find the following: one of my camera lenses, my moleskin journal, my camera charger, my 101 chapsticks\lip balms- seriously, where do they all go??? My camera lens and journal have been missing for a while now. Scott is convinced that no one stole these while I was out and about and that they are around here somewhere. I need to dedicate an entire day to searching for them.
4. Running more. I couldn't resist signing up for a local race, one that I've done every year that I've been home and not deployed. And transportation won't be a problem, so I had to do it. Which means I have to start training again. Which means more mileage and more intentional running, instead of running just for the love of it.
5. Eat as clean as possible. While I've had to revert to a paleo diet, I will have to modify what I eat to have energy to run longer distances. I also stumbled into juicing after a random girls-night-out because I felt awful the next day. Now I want to juice a few days a week, incorporate certain carbs when needed to fuel longer runs, and eat as naturally as possible. I've learned that various ways of eating benefit people differently, and a few combinations of these various diets can help me adjust to whatever my lifestyle is at the moment.
6. Get outside. A challenge for so many of us when we work inside a building or a ship. And then we have lives at home. For me, it's all about doing the things I love to do, which involves being outdoors. So I need to plan more (there's that word that fills me with dread): when I am going to kayak, when I'm going to run, when I'm going to go on a hike, when I'm going to cook. Zzzzzzz.
7. Plan on new adventures. This one fills me with so much excitement! I realize I can't actually plan for the unknown, but I can dream about it and prepare my mind mentally so it doesn't come as a shock. While I'll be sad to leave our home and maybe have to find temporary families for one or two of our dogs- so sad to even think about- what if they put us in Italy? Or Japan again- ewww, duty is tough out there, but I like Japan. Of course, if it means keeping all of our four-legged children together under one roof with us, I'd take Virginia in a heartbeat. Or even Washington; we have yet to experience the Seattle scene.
Have you had to redefine your resolutions?