On Wednesday morning I was rushing because I wanted to get to work a little bit early and not just on time. While putting my lunch bag and PT (physical training) gear in my car, I placed my Asics running shoes on top of my car. I remembered that I left my coffee mug inside the kitchen, so I went back to get it, before I got back in the car and drove off. About a mile away from my house on a busy main street, I stopped at a red light. A white car started honking, and so I turned to look. "What was this person's problem?" It was a lady who, while rolling down her window, was motioning for me to roll down my window. As I did so, she was pointing at the roof of my car. "You have a shoe on your car", she said to me. The words didn't immediately register. "I have a shoe on my car?", I asked puzzled. "Yes, she said. Just one. Just one shoe." And then I suddenly remembered and started laughing. My heart sank: those were my favorite, and rather new, running shoes. They felt like clouds on my feet, and I paid $120 for them. I pulled into an Auto Parts parking lot and got out of my car. There certainly was one shoe left: its shoelace was stuck in the moon-roof that I had shut because it was cold in the morning.
This is what the shoe on the roof of my car looked like when I saw it. (Scene has been recreated.)
I texted the DH telling him what happened and hoping he would leave early from work and maybe find my other shoe:
Me: I think I lost one of my running shoes
DH: Wow.
Me: I put them on top of my car
Me: And forgot about them
DH: Hahaha
Me: And drove...and some lady was honking art me
Me: And told me I have just one shoe on top of my car
Me: =(
DH: Hahahaha, funniest story ever.
(as he's reading this to the guys around him on the ship)
During lunch I called the DH and told him that I had to make it to PT and so now I had to get new shoes. When I called him to see if he was at home and had found it, he just started laughing and told me he "didn't care if I bought new shoes" and "do whatever I want". I went ahead and bought another pair, all the while thinking that maybe my shoe might still be somewhere on the side of the road. After PT was over I raced home. I thought that if the one shoe had made it that far, the first shoe must have gotten lost much earlier since I closed my moon-roof not long after I pulled out of my driveway. I slowed down on my street and the first place I slowed at and looked, was where my shoe was at! It sat on the road right by the curb! I put my car in park, turned on the hazards, and got out of my car to pick it up. It was in great condition; no one had run over it or anything.
My shoe by the curb. (Scene is recreated.)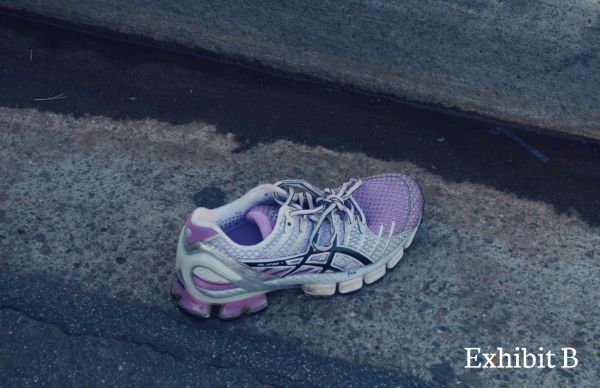 Moral of the story: don't ever place your shoes on top of your car. Not that you would ever do something like that.