It was April 2006. The song "Ain't No Sunshine When She's Gone" by Bill Withers played on my MySpace page. [chuckle, chuckle] I had received notice a few months before that I was going to Iraq on an individual augmentation, better known as "IA" by us Navy folks. Not understanding the expectation at that time, I was afraid of what might be. Nobody understood everything IAs did, especially because using ordinary Sailors to augment troops on ground was unheard of. After telling my friends and family back home that I was leaving over the phone, my friend Jessica started to cry, all my friends from my old ship were worried, my family was freaking out, and even my ex-boyfriend was stunned. He had made every attempt to see me before I left, but I wouldn't budge. Maybe there was some unknown force at work (like the fact that I met my husband there) that was telling me I needed to go to Iraq without extra baggage, even though during times like these, I was at my weakest and knew I wasn't going to have anyone to come back home to.
My training took place in Fort Jackson, South Carolina. Initially, I had a hard time wearing 60 pounds worth of battle gear: body armor, a battle helmet, an M16 over my shoulder, extra magazines, boots, two canteens full of water, etcetera. My body ached at the end of an 18 hour training day, and I had to muster up all the strength in the world to keep my eyes open after four days straight of training in that manner. I knew we had to get caught up as best as possible in a short span of two weeks. At first, I was awful with zeroing in with my M16. I couldn't get the breathing right, my helmet was too big for my head and kept falling over my eyes, and my arms would grow tired in certain "firing" positions. Added with the intense humidity and heat of South Carolina during the spring, trying to learn how to shoot accurately with my weapon was no fun at all. I faced being left behind until I could qualify, while those I came with left without me. Eventually, I learned that I could pad my helmet with extra cushioning foam and a sweat rag so that it wouldn't fall over my eyes when I was aiming at my target: my helmet sat amusingly 3 inches above where it should have on my head, and it was about a 2 to 5 minute evolution to put it back on my head every time I had to take it off. The shenanigans worked, though, as I finally qualified "sharpshooter".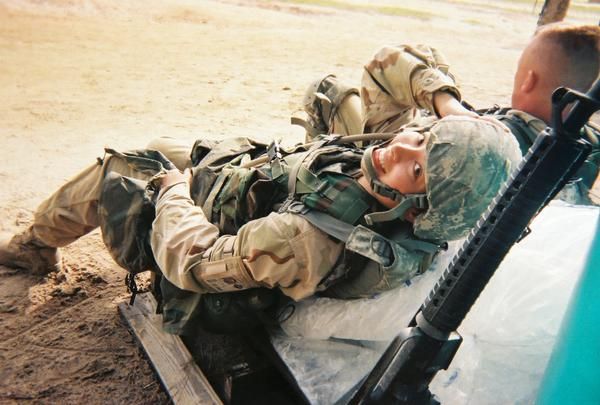 The urban warfare training was another story. I hated the army crawl, as I like to call it. I had to crawl on my belly as low as possible wearing all that heavy gear and not let my weapon fall in the mud. Epic fail! "This is why I didn't join the army", I thought to myself. I knew what I was good at, and this definitely wasn't what I was good at. I imagined being in the middle of Iraq in this type of situation and felt more afraid of getting someone else killed, than I did getting myself killed. Since I was always the slowest person to finish the army crawl drills, one of the trainers said to me, "You're killing me ma'am! You're killing me!" First of all, I'm not a "Ma'am" I mused to myself, and secondly I retorted back jokingly, "You're killing me!" He knew I was a lost cause, so he wasn't going to egg me on anymore, for that event at least. I ended up completing the army crawl event despite finishing dead last. I knew I wasn't going to give up. I never give up. I did not want to be "that" person, "that" female. After one of the training evolutions, the local news media had been allowed on base to interview our group. I eyed the anchorwoman suspiciously as she moved around interviewing everybody. The Iraq situation was a touchy subject for people. I knew there were those who would twist words around to support whatever view they had of the situation. Sure enough, she approached me and asked me how I felt about individual augmentation. I don't remember my exact words-which I rarely ever do and which is why I'm writing this down now-, but I said something along the lines of: "Well, I volunteered to serve and so here I am." Maybe I was looking too deeply into the situation, but it seemed like she wasn't thrilled by my response. Perhaps she was hoping for something else. I'm guessing my interview never aired, which I didn't mind, since I must have looked like a hot mess with my funny helmet, dirty, sweat-streaked makeup-less face, and frizzy strands of hair popping out beneath my helmet.
I ended up leaving on time with the group that I began training with. I remember leaving with a renewed sense of pride for what I did and an even deeper admiration for those I served with. We had become a close-knit bunch. While I don't talk to most of them anymore, I wish them all the luck and happiness in the world, and if they ever came to town and needed a place to stay, my home would always be open to them.

My tour in Baghdad wasn't what I thought it was going to be. It's different experiencing it and seeing it up close and personal. Of course, the environment wasn't all daisies and cupcakes, but I can't say enough about the hard work, bravery, and positivity that I witnessed. There will always be those who will say negative things and have their opinion about what happened there, but they never saw the other side of the truth without wearing a uniform and having an M16 over their shoulders- well, because you just had to, in case you had to defend yourself or someone else.

Every time I think of who I am and what I do, I remember that I need to strive to live a life worthy of celebration and, well, worthy of living. It may be hard living up to these expectations, but, nevertheless, I need to keep trying.