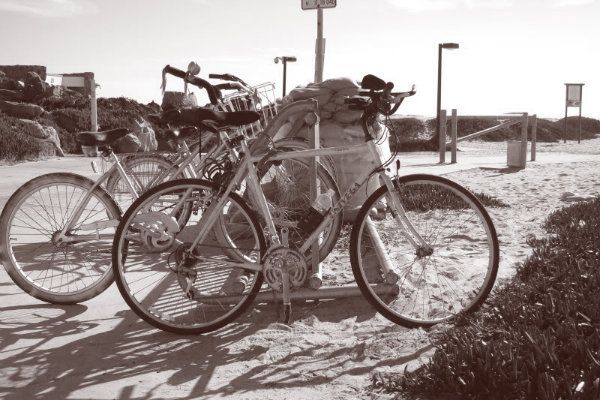 (random bikes located in Coronado)
November 24th, Ventura
This is where my spirit lives,
alongside wide, open gravel roads,
through verdant, incongruous organic trails,
onto black, painted highways
spanning the livelihoods of old, young, sad, and happy alike.
The orchard fields dotted with sugary, ripened fruits
hand-picked by sombrero-wearing workers,
simple and humble, solemnly bending, picking, and rising
in a sweet, rhythmic dance with Mother Nature's succulent jewels.
Pedaling faster, yet ever slower,
climbing with each bellow of rolling green hills,
sinking with each downward slope into sun-kissed plains,
filled with fields of husks hugging corn
or rows of soil cultivating cabbage patches,
some brown-skinned workers sitting, frazzled, on the road-side
hooting and hollering, proudly, as I fly by,
managing only to look back and wave hello
as I soak in all I can take.
In my quiet, smooth, planned breaths
a smallness overcomes,
and things begin to make god-awful sense,
riding past the curious commuters in their monster cars,
past the Pacific with her melancholy drawl,
dodging sharp, broken malt-colored glass and dented caps from broken bottles,
never pedaling to an end or to a rest,
pausing momentarily at civilization's traffic lights and
red-and-white stop signs,
unable to break my incessant admiration;
I am stunned by the awe and power
of all that is around me.

*Please do not reproduce any part of my poems without explicit permission from me. Thank you.*