It was the night before we launched tomahawks at very specific locations in Iraq in order to eliminate Iraq's weapons of mass destruction and liberate the Iraqi people from Saddam's oppressive reign. We were part of 30-something US warships, not including coalition forces, who participated in the operation. Little did I know that my involvement in Operation Enduring Freedom would come full circle when I was able to view one of Saddam's numerous torture chambers and prisons in one of his palaces in Baghdad when I was deployed to Iraq boots-on-ground in 2006 and that I would begin all my long-distance training runs along the same path in which Saddam was being detained by US forces before he was handed over to the Iraqi government for trial and his eventual execution for his crimes against humanity. These events were widely documented and reported and seemed to pale in comparison to the various humanitarian efforts we became involved in. What we did and what was highlighted depended on the views of the media that was covering our stories.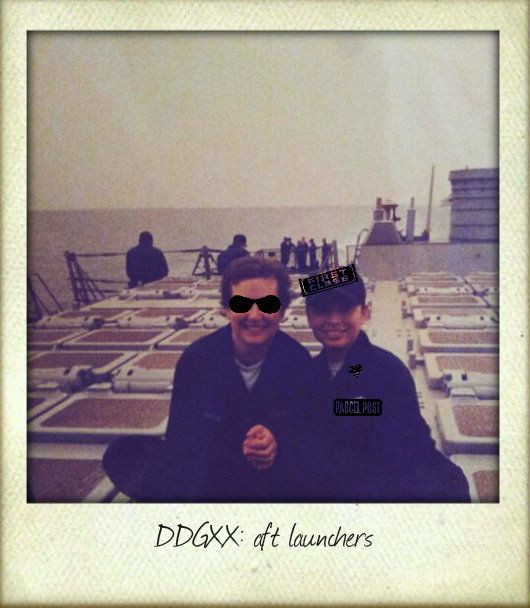 This photo does not depict the moments before we launched; however it does depict the "aft" (Navy term for "rear" or "back") launchers.
I wrote a short poem of what I felt happened prior to that very morning.....It wouldn't be the last of the poems I wrote during times of conflict, but it would be one of the few that I was able to salvage and document in it's final draft. It isn't one of my best, but I've saved it nevertheless for the moment that it defined at that point in my life.
March 2003
Images darken
on cold, white sands
where hearts collide on red beds of steel earth
and oil darkens thin blue waters
lit with fires that make men bleed and bruise.
New dawns raise days
thick with grayish clouds of smoke
covering a gulf dotted with warships and infantry.
Deserts crawl with great beasts on black wheels,
soldiers with purple hearts on their camis,
the steel toe of their boots dug deeply in dunes,
the morning man serenades to Allah,
the dome-shaped mosques line the warm earthen sky at dusk,
as I sit on the launch pads praying…
No, I didn't actually sit on the launch pads praying; it is a metaphorical statement. I probably did say a few prayers....I hoped that our efforts would not be in vain......
*No portion of my poetry may be reproduced or used without explicit permission from me.*