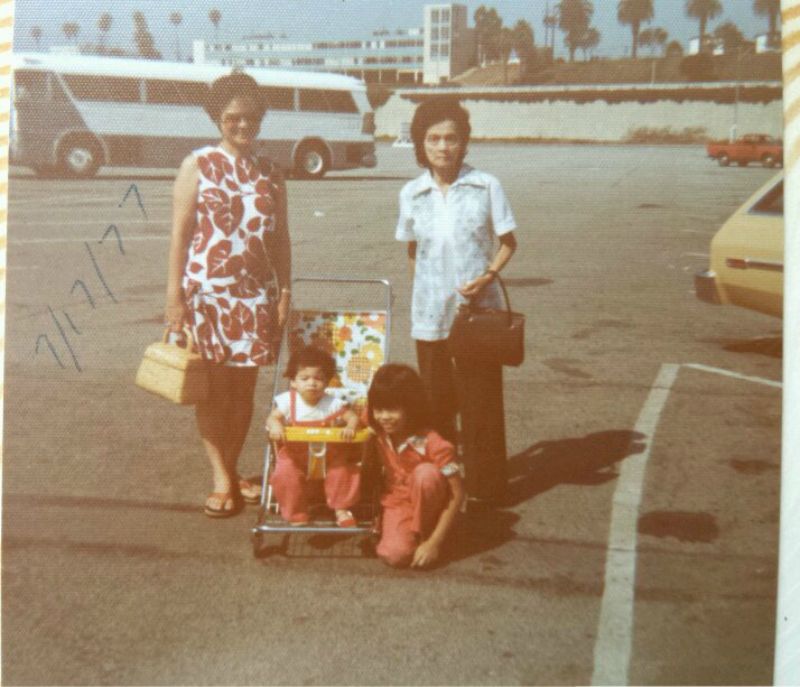 When I'm deployed, I miss my loved ones the most: my husband, friendships, family. Certainly, th

e

separation

from them impacts me, not only uniquely, but dramatically.
I don't feel like there is a tomorrow. I need to treat people

really well, as if it were the last time I'd see them

. There is no better time to show my appreciation for a kind word, gesture, or act than now. Human connections matter, and they matter deeply. For me, relationships, no matter how short or long, simple or complex, can leave a lasting influence. Here are what a few of my friends have to say about the relationships that have impacted their lives.....
Steph from The Loudmouth Lifestyle
The relationship I have with my mother has impacted me the most. Though we have had our ups and downs over the years, she has always been there for me and has done so much for our family. I have started to realize this more and more as I grow older and prepare to become a mother myself. I will probably never be able to repay her for her kindness, support, and generosity, but I do hope she knows how much I love and appreciate her.
Chels from Chels & the City
I picked this one because a very special woman has been on my mind recently and when I read Jess' email, I knew this would be a perfect way to bring her up. I have a very dear friend who is 91 years old. Her name is Doris and I am so honored to be her friend. We met at church, specifically the Quilter's group that gets together every Tuesday. The summer between my junior and senior year of high school was when we began to get close because I attended the Quilter's meetings every week during that summer to learn how to make a t-shirt quilt, which I was making to fulfill my senior project requirement. Since then, almost seven years later, Doris and I have exchanged letters and kept in touch through snail mail. She's so important to me that while I was creating the name for my greeting card company (which I named after my grandmothers) I was trying to figure out how to fit her name into it because she's been like my third grandmother. And while she is frail and aging, she still is able to get around and send me mail, all of which I have kept because she is so precious to me. Having a friend who is generations away from you is something that I recommend for everyone.
Fenn from The Honest Badger
Ok, I'm unsure if anyone would qualify what I'm about to talk about as a relationship. And to be fair, I could talk about other people, but life is complicated right now and this relationship is going to be there for me during this complicated time. So what am I talking about?
Well
Taylor Swift
, of course!
Nope, I have never met her. We have never exchanged any communication. She hasn't ever replied to one of my tweets or Instagram posts or anything. But I still feel like she is an important relationship in my life.

Many moons ago, I heard Our Song on the radio and I fell in love. What I loved was that this was a song sung by a 15-year-old and it sounded like something a 15-year-old would say. Because so often, music sounds so much older than the teenagers singing it. Well, after that, I was hooked.
From there, I started following Taylor Swift via the various media outlets available to me, and even went to her concert last April (tickets courtesy of my mom...for my birthday gift). For me, this relationship is largely about the music. Taylor's songs describe what I'm feeling. I have all her albums and extra downloads from other sources and I can guarantee I'm going to find something to make me feel less alone in whatever I'm feeling. Happiness, sadness, confusion, etc. But also, Taylor always strikes me as a woman with integrity. She is a powerful role model for young women, exercising control over her own career and artistic decisions. She remains consistent in her presence in the media without seeming, to me, like it's all an act.

I would say the largest impact she has had on my life was helping me get through my marathon. Whenever I was bumping my mileage, I'd make sure I was playing Taylor Swift. Her music has a generally slow rhythm, so it helped me maintain a slow and steady pace. For my actual marathon, I timed out every five miles by music and put a Taylor Swift song in there to remind me that I was on time. For the last six miles, I had a Taylor Swift song every three miles. Whenever I was feeling like I couldn't make it, either in training or on the day of, I imagined Taylor at the finish line, with the biggest and sparkliest sign, shouting the loudest and jumping up and down for me...because I knew she would believe in me.
So no, I've never met her, and maybe I sound like a 14-year old girl right now...but Taylor Swift has always been there for me.
For me, the relationship which has impacted me most in life is probably my mother. While it is a toss-up between my father and my mother, my mother continues to affect me in conscious and unconscious ways from my childhood up until the present. There are things that I have inherited from her which I appreciate, and things which I find myself doing which I am scared of. Despite our personality and cultural differences, my mom has endured and overcome much in her life and she did the best that she could for our family considering her situation. I want to take the strongest and best qualities that my mom had and really make them my own: financial wisdom, discipline, perseverance, faith, loyalty, dedication, adventurousness.
What relationships have impacted you the most and why?
*I am currently deployed and may not be able to respond to your comments in a timely manner.*